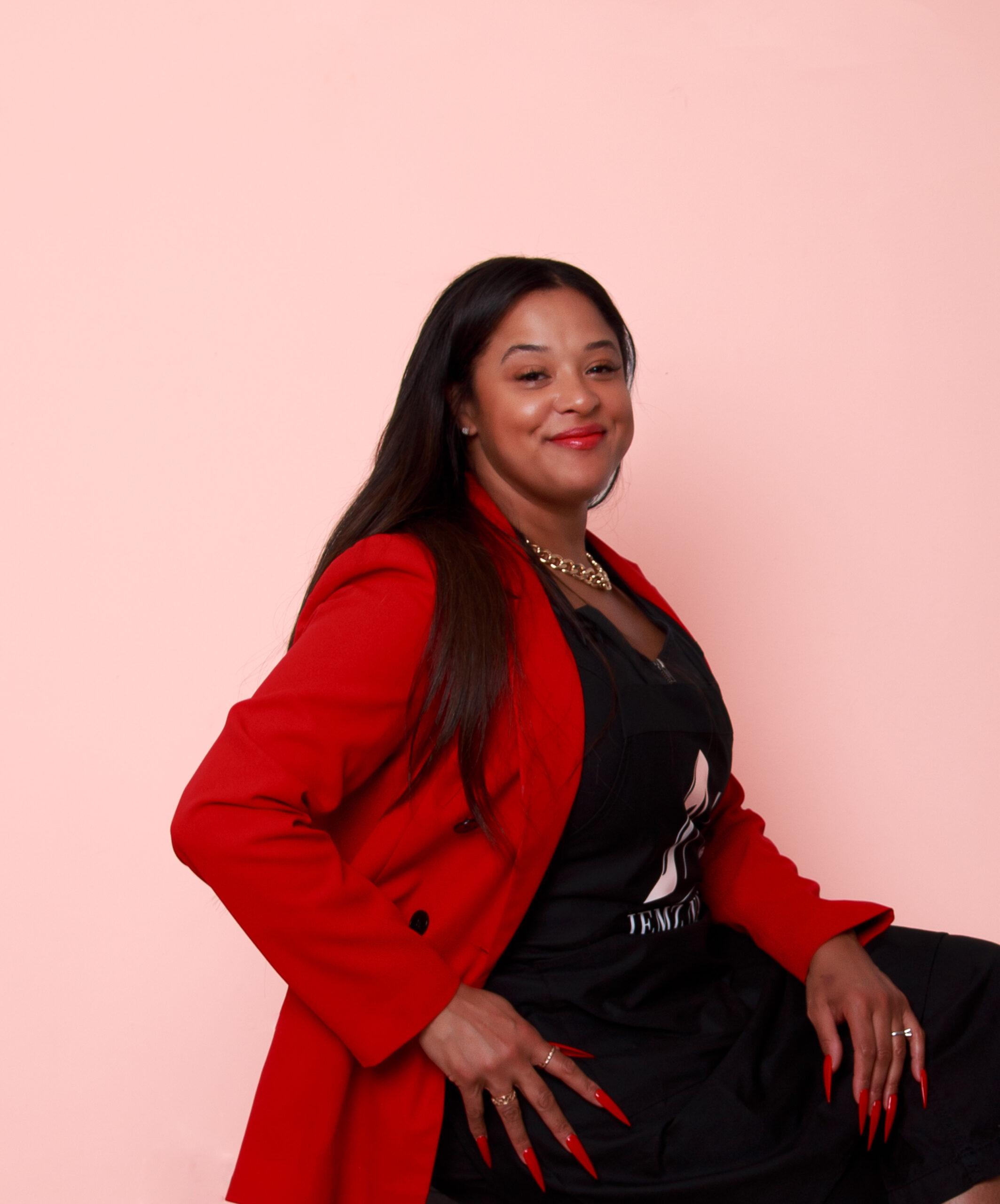 Nails are

more than

an accessory.
They are a form of self expression.
Hi, I'm Jemma proud Founder Owner and Creative Director of Jemz Nailz and an award winning Nail Technician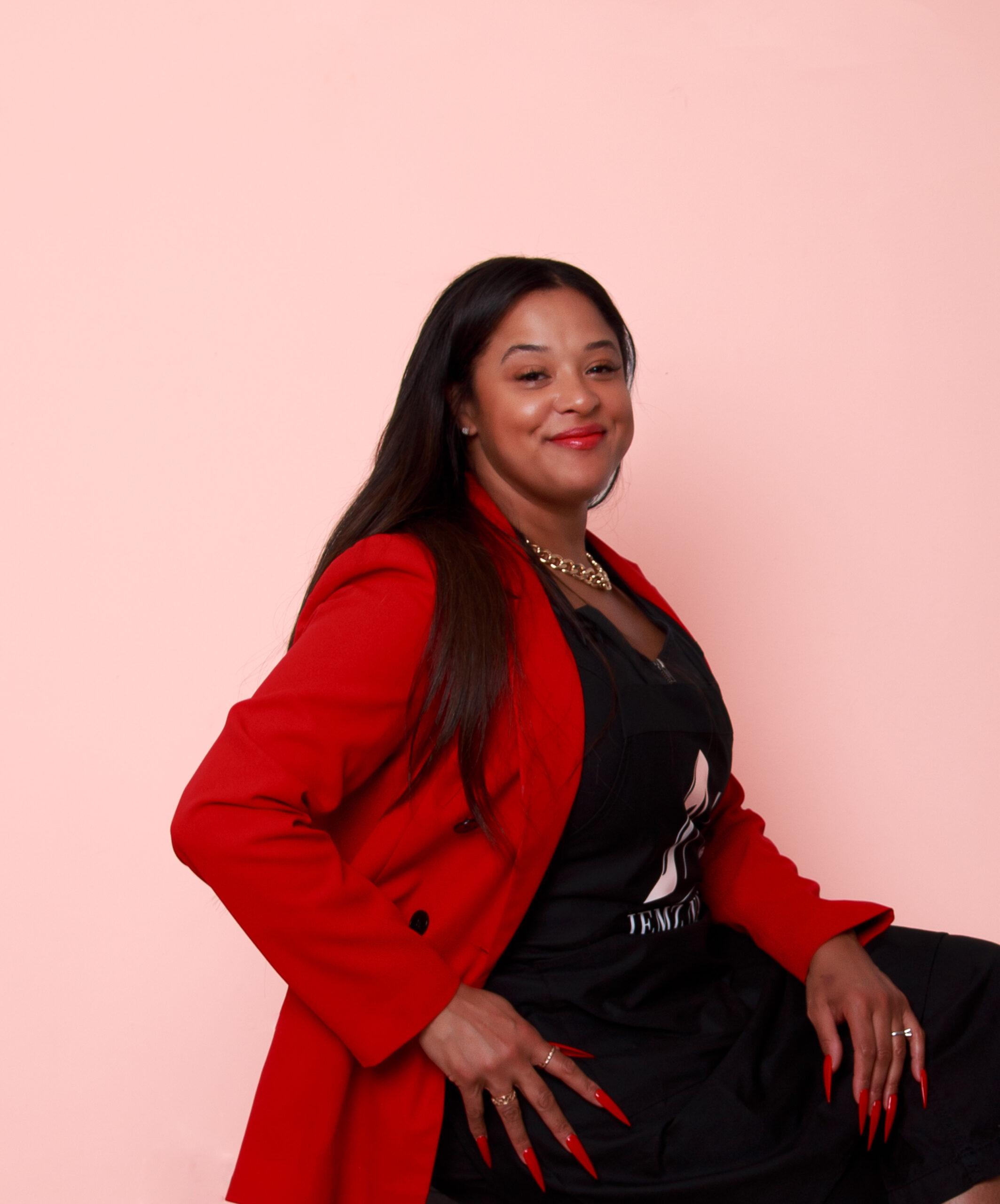 Builder Gel In A Bottle Course Structure
This is a 2-day course for complete beginners who want to learn the application techniques and knowledge on this soak off gel system.
The course will ensure that you are fully trained to use the Builder Gel in A Bottle System to include natural overlay and tip extensions.
Requirements
Prior to the course staring you will receive a manual and homework booklet that will need to be completed prior to the course starting. This must be completed in order to continue with the training days.
The Fee: £295.00 Inc. VAT
Price includes
Training Manual, NSI Kit and Certificate. Lamp not included but can be pre-ordered.
Upon successful completion an accredited certificate will be awarded.
Throughout the course, you will have the opportunity to gain valuable insights, master essential techniques and receive personalised guidance from experienced professionals in the industry.
How to Recognise Nail Disease and Disorders
Tip & Overlay application
Application of French & Colour techniques
Filing and Finishing Techniques
Day 1
Health & Safety ♦ Nail Anatomy
Natural nail overlay ♦ Removal
Shaping ♦ Benefits of Gel
Day 2
Tip application ♦ Filing & Shaping
Maintenance ♦ French
Polish ♦ Practicle assessment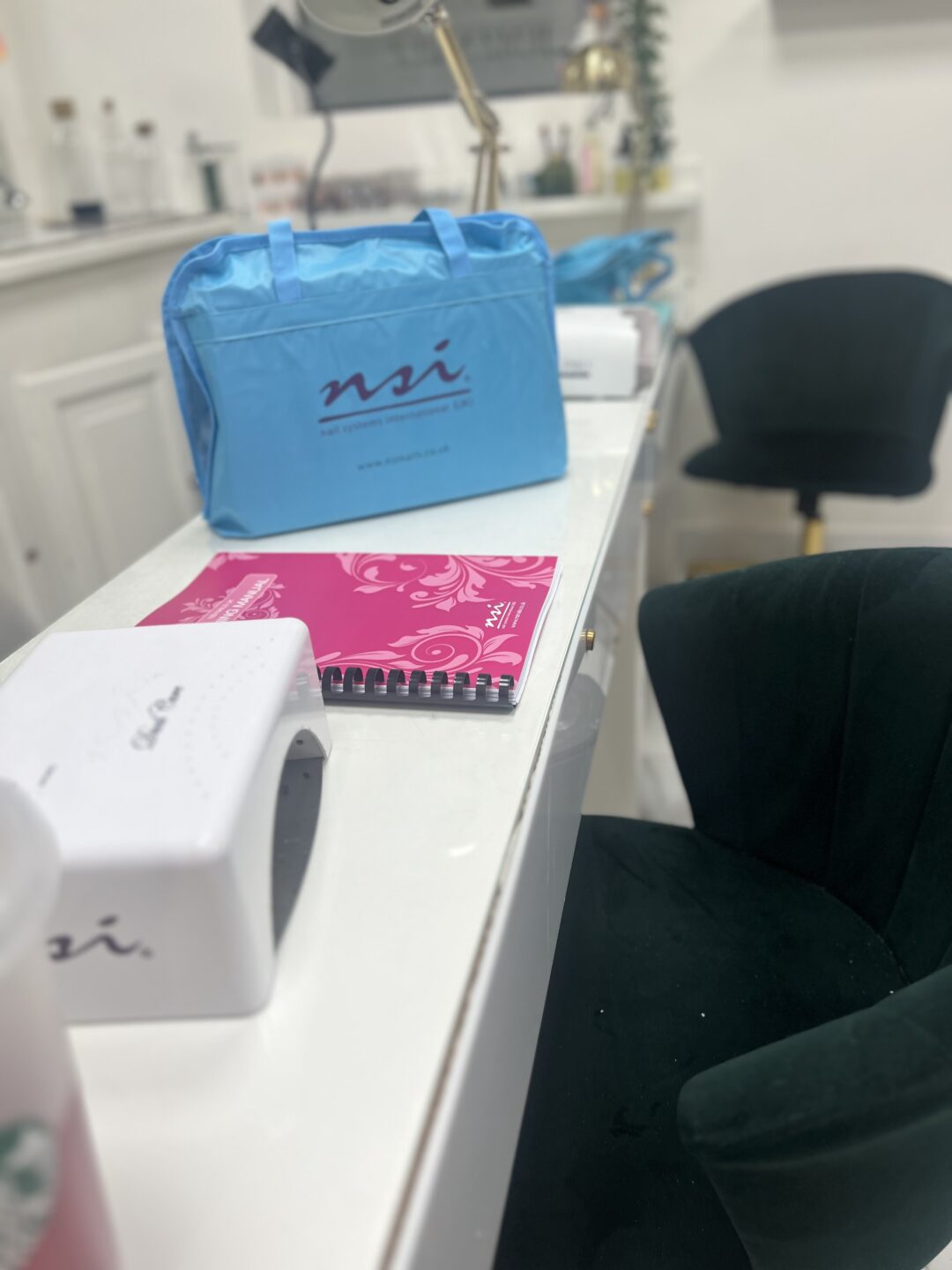 Foundation Acrylic
Course Structure
The Foundation Acrylic Course strikes the perfect balance between theory and practical knowledge, providing you with the essential tools and expertise you need to advance in your career as a professional Nail Technician.
This is a five-day course is divided into two informative two-day sessions, followed by a fifth day which focuses solely on practical assessments.
This structure ensures that participants fully grasp the fundamentals of nail theory and are able to apply them in real-world scenarios.
The Fee: £550.00 (£660.00 Inc. VAT)
Price includes
Training Manual, NSI Kit and Certificate 
Throughout the course, you will have the opportunity to gain valuable insights, master essential techniques and receive personalised guidance from experienced professionals in the industry.
How to Recognise Nail Disease and Disorders
Mastering Tip Application
Liquid and Powder The Perfect Ratio
Applying Product Like A Professional
Filing and Finishing Techniques
Build Your Business: Salon Know-how and Etiquette
Day 1
Prepararation ♦ Nail Anatomy
Mini Manicure ♦ Tip & Overlay
Traditional French ♦ Hand Filling Techniques
Day 2
Natural Nail Prep ♦ Form Fitting
Sculpting ♦ Ombre French
Electric File ♦ Theory
Day 3
Reverse French Manicure
Nail Biters ♦ Practical Work
Theory Exam Prep
Day 4
Theory Exam
 Infill Backfill Differences
Re-Cap
Day 5
Practical Assessment
♦ This must be taken within 6 months of you completing your 4th training day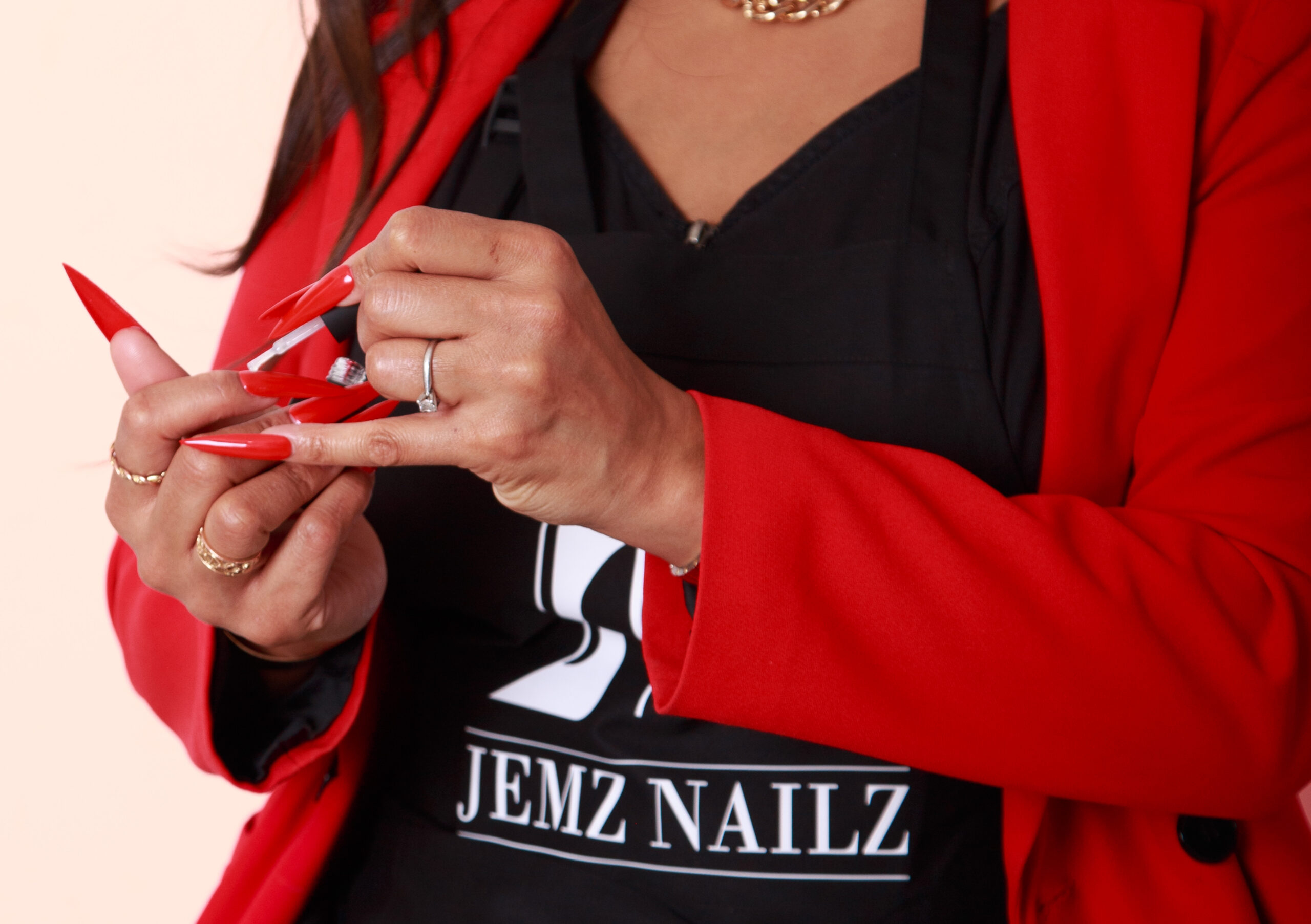 Jemz Nailz has a reputation for creating bespoke

luxury nails, built to last.  
A passion transformed into a thriving business that serves community and celebrity clients alike.
"It has been an incredible journey and a privilege to be trusted by those in the spotlight to provide them with perfect nails that enhances their beauty"
Train with Jemz Nailz
Learn From An Industry Expert
With over 14 years of experience in the industry. I know the ins and outs of  being a student to having to then build a client base from scratch. I've been both a mobile and home based Nail Technician, and also experienced renting salon space all prior to running my own nail salon. I have trained with some of the best and have perfected my craft to the highest level.
Proven Track Record of Success
My accolades in the nail industry speak for themselves, and my proven formula for success will undoubtably help you to achieve your goals too.
A reflection of my skills and dedication to this art form over the years, I have had the honour of receiving awards and recognition from the nail industry.
Beyond my own passion for nails,  I also love empowering aspiring nail artists to carve out their niche in the industry.
The path to success starts with a single step, so start your journey today.
Qualifications:
VCTC Certificate in Nail Treatments
VCTC Diploma Health Safety Security and Employment Standards
The Academy for Excellence Acrylic Nail Extension Diploma
Kirsty Meakin Back to Basics Workshop
NSI Sculpting Workshop
Award in Education and Training
NSI Educator
Member of the Guild of Nail Technicians
Highlights:
Salon owner
Work featured in Scratch magazine
Celebrity Clientele
What is Included In the Foundation Acrylic Course?
A comprehensive training manual that will guide you through the course content and serve as a valuable reference tool throughout your journey.
A complete training kit equipped with all the essential tools and products you will need to participate in the Foundation Acrylic Course and practice your new skills.
Upon completion of the course, you will receive the highly-regarded NSI Diploma.
Why Do I Need NSI Certification?
The NSI Diploma is industry recognised qualification and approved by the Guild of Professional Beauty Therapists.
Achieving this level of certification is a testament to your expertise and dedication. Proof that you have undergone rigorous training and possess the skills required for a professional nail technician.
Whether you want to open your own business or work in a salon, the NSI Diploma is crucial for your career as a profesional Nail Technician
Can I get Insurance with my NSI diploma?
The NSI Diploma is crucial for your career as it allows you to obtain professional liability insurance, protecting both you and your clients.
What is the minimum age to do your courses?
You can enrol if you are under 18 years of age with Parent or Guardian's written consent.
What's the dress code when attending courses?
Salon suitable clothing must be worn, students must have nails free from enhancement as students will practise on each other.
Can I pay in installments?
Yes we can accept

3 Instalment payments:  

1st payment is due online when booking + £4.95 processing fee 2nd & 3rd are payable by bank transfer. Account details are sent to you after booking.
All payments must be received at least 4 weeks before your course start date. 
Shay Nailedit
During my time working of working with Jemma I learnt so much. She's such a wonderful and genuine person who takes pride in her work. She pushed me to do so and feel confident in my craft. She is patient and always ready to give advice. The knowledge that Jemma possesses is unmatched and I am supe grateful to have worked alongside her
Jodes at Jemz Nailz
Everything I've learnt is from our Jemz, & now you can do it too! The best teacher & I thank her for everything in my journey.
So Precious Nails
My 1-1 session with Jemma was a game-changer! Learnt valuable things to apply to my daily practice. From her inspiring and passionate approach. It was an incredibly useful and enlightening experience!
Are you ready to take the first step?